Step-By-Step Install Guide
(Version 1.18 zip file)
Please follow these steps...
Note - This guide assumes you are using Windows. This guide was made with Windows 7, other versions of Windows may vary slightly.
Download the TeslaMap program or the free evaluation version. The file you download will be called TeslaMap1.18.zip (or something very similar). I recommend you save the downloaded TeslaMap.zip file to your desktop.
When the download is complete you will have a TeslaMap1.18.zip file on your computer.

Right-click on the TeslaMap1.18.zip file and a menu will appear.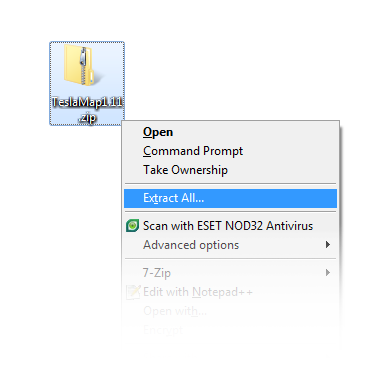 Select "Extract All..." in the menu.
The Windows Extraction Wizard window will appear.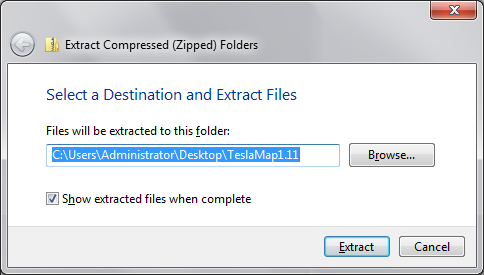 Click the extract button.
A new TeslaMap folder will be created in the location you specified in the Windows Extraction Wizard.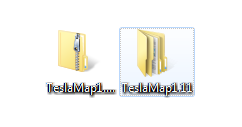 Open the new TeslaMap folder. (It may have opened automatically if the "Show extracted files when complete" box was checked in the Extraction Wizard.)
Inside you will see a TeslaMap.jar file.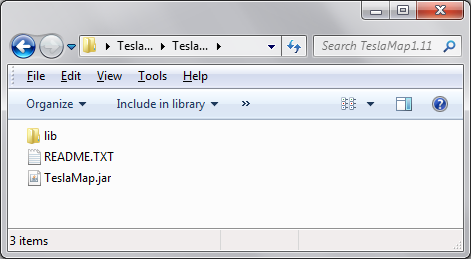 If TeslaMap Fails To Run
Please try the following...
Download and install the free Java Runtime Environment from Sun Microsystems.
If TeslaMap still fails to run, the .jar file type is probably not associated with a Java Runtime Environment (JRE) on your computer. To fix this please follow these directions...
Windows Vista / 7:
Start Button > Control Panel > Default Programs > Associate a file type or protocol with a program > Select .jar > click the Change program button > select Java Platform SE Binary > click OK
Windows XP:
Start Button > Control Panel > Folder Options > File Types tab > select JAR in the list > click the Change button > select Java Platform SE Binary > click OK
Try restarting your computer.
Be sure you are extracting the TeslaMap.zip file, not just opening it. If you try to run the TeslaMap.jar file without extracting it, you'll get the following error...

Simply double click the TeslaMap1.18.exe file to start the installer. The installer will guide you through the install process.
This version does not need to be installed. Simply double click the TeslaMap9.X.X.exe file to run the program. i recommend scanning with an antivirus program first.
If you encounter this error: